Sponsored: Bio-essence BB Cream Part 2 - Bio Platinum BB Cream
Thursday, December 16, 2010
Hey babes, so this is the part 2 of the Bio-essence BB cream featuring the Bio-Platinum BB Cream Plus Multi Effects SPF 25 PA/ ++ (Best for Whitening)
If you have not seen Part 1 yet >> click here it has most of the swatches etc.

yes this post is all about whitening :) Nowsaday people are so into whitening including my dad whom use his special skincare every night to have his skin
fairer then mine. so true!! even my friends whom seen my dad before was shock!
in case you are lazy to click on the link! haha.
No makeup or anything on!
Left side of the picture has the bio platinum bb cream, right side nothing
full makeup on including setting powder
After almost 12 hours outside
majority is still on but the coverage under my eye and nose area already fade
how i apply :)
What it claims:
Bio-essence's Bio Platinum BB Cream SPF25/PA++ reawakens beautiful skin, creating a flawless makeup and youthful skin that exudes natural beauty and charm from the inside out.
Platinum is cherished and represents purity and eternity; It is the rarest and most stable form of precious metal. It possesses excellent compatibility with the human body and its powerful anti-oxidant properties are also superior.

10 benefits in 1 (i will put which one works for me highlighted)
To Revitalize the skin with Plantinum

To create a natural, nude makeup with a luminous glow

Conceal

Makeup base


Sun block

Skin

Repair

Oil Control

Hydration & Nourishment

With Anti-oxidants to reduce wrinkles & lines

Whitens skin
Pros:
Does not cake up with setting powder
Decent coverage - not as good as the bio multi-effect but workable :)
Reduce appearance of pores and fines line
My skin tone is even out
It does not cause breakout yet
More liquidity than the bio multi-effect which makes it easier to work with
Did not oxidise on me :D
Cons:
Does not look very natural on me even its is 85% close to my neck shade and my dad though i pile on alot of makeup
Does not feel very stick and have no residual (no picture because its has nothing on it.)
Oil control is fairly ok - reason is because today weather is not hot quite cooling actually but i can feel it melting abit around my nose and under eye when i go to coffee shop for break etc.
Lasting wise is ok for me if i set it with a powder otherwise same with bio multi effect estimate 5 hrs max.
Overall: 4/5 stars
i am liking the "whitening" effect it claims for this model of BB cream as you know the above story and i like the effect that my skin tone is even out, so far it matches my neck shade near 85%, the rest of the 15% is mostly about the looking fake and cakey when it actually not cakey at all! haha i like that the dispensing part is smaller compare to the bio multi-effect which i can control the amount i needed. But i would not use it for photo taking event because its reflects quite abit when i try to take it with flash. so far i have not use it regularly to see its effect but i am looking forward to fairer and even skin tone. YEAH!!
HOLD UP!!! NEWS ALERT!!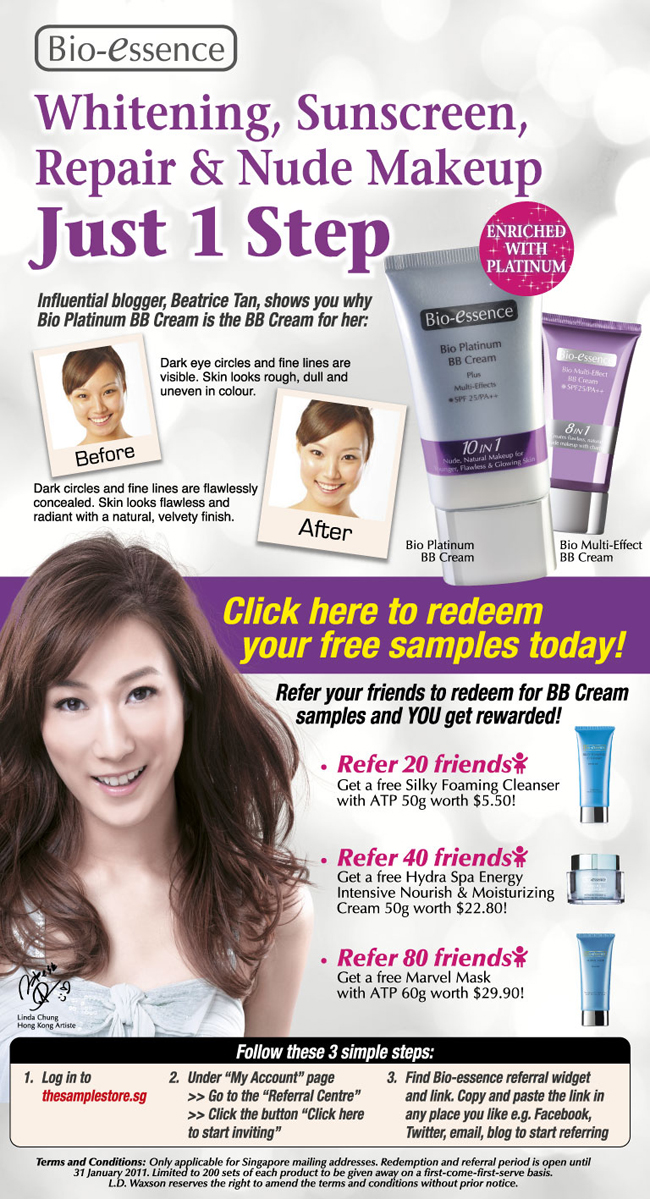 Bio-essence has decided to extend the referral program to all of you reading!
If you have manage to refer 20 friends and above, you will get to receive a Bio-essence products stated at the image :)
SO WHAT ARE YOU WAITING FOR?? GO NOW AND START REFERRING TO FRIENDS OR EVEN FAMILY  MEMBERS AS A XMAS OR NEW YEARS GIFTS!!
thanks for reading :)